Leave YOUR Mark!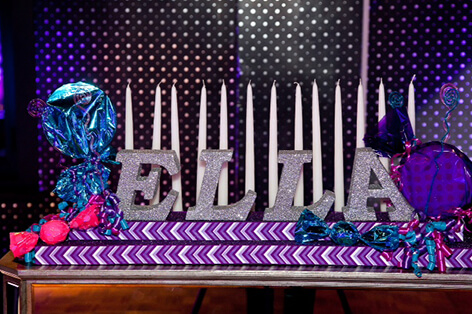 Every event has its own personal identity, a flare that's unique to the party throwers imagination/vision. With each event, should come an original logo. An event logo can be something as simple as the bride and grooms first initials side by side or a decal of your daughters favorite sport, but the more unique the logo, the more memorable it is sure to be.
The Thought Process
Coming up with your events logo is certainly no easy task, most people want something that's different but it seems that every idea has been used already. To make the logo process a little easier first start off with something simple, a name, sport, personal activity etc. then from there make it more. Give the cool skateboarding picture red hair to look a little more like your son, or having your daughters name in collegiate block letters to add to her Cheerleading themed Bat Mitzvah. Start simple, them make what you have great.
The Execution
So what's done with all of these great personalized logos you ask, they go everywhere! Below are just a couple things that you can utilize your logo for:
– Event GoBo
– Beverage Napkins
– Invitation Stamps
– Memory Book
– Center Pieces
– Cake Topper
Having a logo for your event is a great way to tie everything together, you want your guests to be able to see the event come together in a cool yet simple fashion and an event logo is the way to do it! Take a look at some logos we've help put together in the past!
Back to blogs