Weddings at the New York Public Library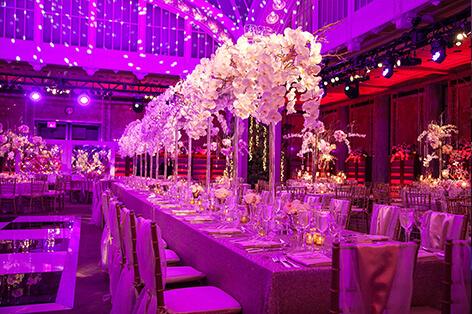 The New York Public library is an iconic wedding venue in New York City. It's a classic and will forever uphold the beauty and grandeur that a wedding ceremony calls for. While the space itself is marvelous on its own, the buildings many forums and rooms can lend themselves to any personal decorative touches that a marrying couple might want. The Celeste Bartos Forum is particularly stunning, with its glass dome ceiling and dramatic columns. Successful Affairs has planned many weddings at this venue, and it is always a treat to get to work within such a stunning space.
Our most recent New York Public Library wedding was stunning, and we couldn't be happier for the lovely couple. The subtle blue and purple lighting created an atmosphere that was dreamy and romantic, and the center pieces for the dining tables were a show stopper.
The New York Public Library exudes old New York style and is the perfect venue to create your first memories as a married couple. Contact Successful Affairs to begin planning the perfect wedding at the New York Public Library.
Back to blogs